2020 NFL Draft Profile - WR Collin Johnson
Updated: Feb 7, 2020
Photo Credit: Will Gallagher/Inside Texas
Player Description:
Name: Collin Johnson
Position: Wide receiver
College: Texas
Uniform Number: 9
Class: Senior
Height: 6'6
Weight: 220 lbs
Accomplishments:
Earl Campbell Tyler Rose Award Player of the Week (2018)
Preseason All-Big 12 (2017)
Became the 24th Longhorn in school history to surpass 50 catches (2017)
Route Running:
Johnson's route running can be described as being simple, but sharp and clean. He does not run complex routes, but every so often, he flashes his ability to out outmaneuver defensive backs by adding modifications. He is able to maintain constant speed when running his routes, and use angles to create enough space to make a catch. He generally runs inside slants and out routes with an occasional vertical route. In the clip shown here against USC, Johnson excutes a head-fake, 3-step jab move which slightly takes the Trojan cornerback off balance; as a result he is able to beat along the sidelines and make the catch over him. Rating - (8/10)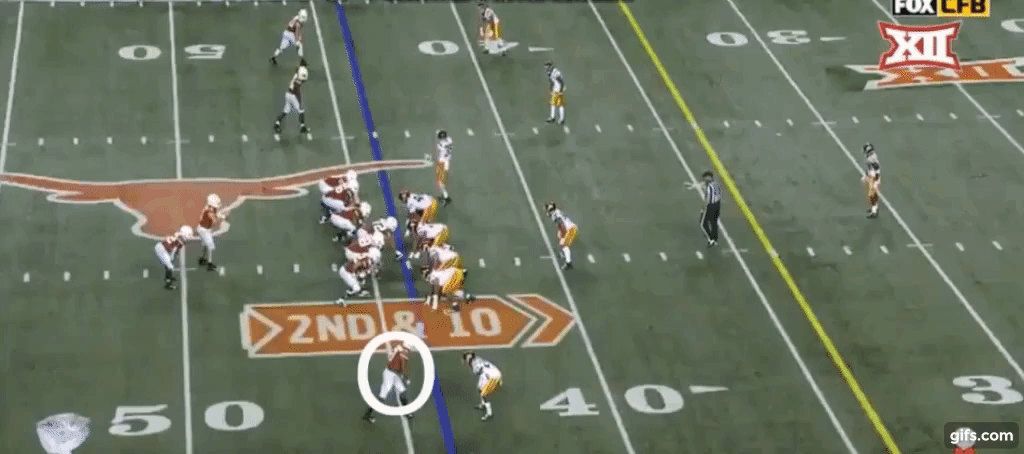 Creating Separation:
Considering his height and length, Johnson has a much harder time than he should creating separation against opposing defensive backs. In these types of situations, Johnson is susceptible to getting crowded by defensive backs, preventing him from making routine catches. He uses speed to create the distance needed to make a catch, but this does not always succeeded, resulting in him losing one-one-one battles he should win. To have greater success in this area, improvements in stemming needs to be made; using his size to press up and take up a defensive back's space. Rating - (6/10).
Hands:
Though Johnson is adept at making types of catches with high degree of difficulty, he has a tendency of dropping easier passes. He has ideal catch radius and is excellent at extending and using his frame. Johnson's issue catching the ball on shorter routes, is likely a product of trying to create space than his hands. Overall, Johnson's hand-eye coordination is as good as any receiver in college football, and he is among the best at making contested catches. Rating - (8/10)
Overall Assessment:
Johnson is a tall, lengthy receiver with big-play abilities. He is a gifted athlete with tremendous body control and is a willing blocker. Though he is not a polished product yet, Johnson has all the attributes of becoming a serious playmaker at the next level.